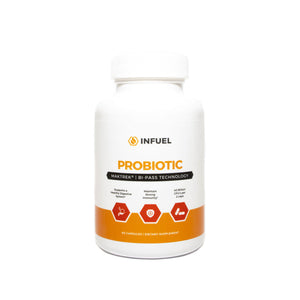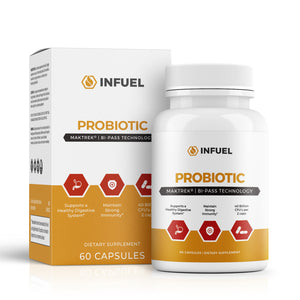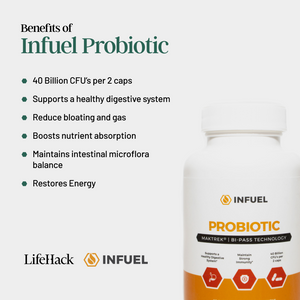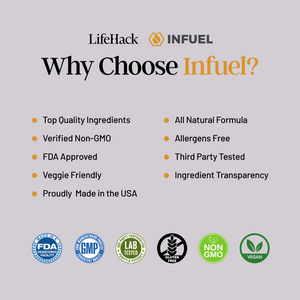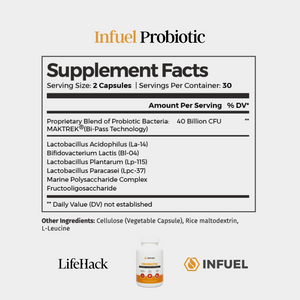 "Done wonders for my digestion! I can't believe I didn't start taking this earlier."
Probiotics do wonders for digestion and gut health
"Taking these probiotics has helped clear up my digestive issues and I feel less tired in the morning too!"
"I was skeptical - but after 1 bottle the difference is pretty crazy. Joints went from aching to practically no pain at all."
FAQs
What are probiotics?

Probiotics are strains of live bacteria that we can take in supplement form to support our microbiome – like Infuel Probiotic.

You can also find live bacteria in some fermented foods and drinks, like:

• Kombucha

• Kefir

• Sauerkraut

• Kimchi

• Miso

• Yoghurt

• Pickled vegetables

• Tempeh

What are prebiotics?

Prebiotics are indigestible fibres we get from plant foods that feed our healthy bacteria in the gut. Popular sources include fruits, vegetables, and wholegrains.
AN EXCLUSIVE BRAND PARTNERSHIP
We only work with the best in the business, that's why we have partnered exclusively with Infuel.
Infuel is here to deliver products that help to optimize your body to become the best version of yourself all while maintaining a high energy level and fitness.
Accomplish what you want, everyday with Infuel.
Effective product
Within 4 days or taking this product once daily my sugar cravings subsided. I have taken many brands/types of probiotics but this one works best for me. Recommended
I feel more energy after taking this capsules
I feel more energized. I think it works
Awesome
It does exactly what it says. I take it everyday.
It really makes a difference for me
I'm already losing weight.....I had a huge amount of bacteria built up in my gut. My symptoms are fleeing and my gut loves this product.
Really good probiotic
I feel great since taking it
Get 15% Off