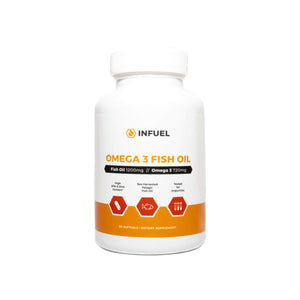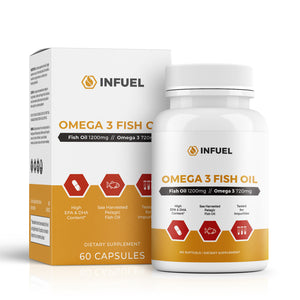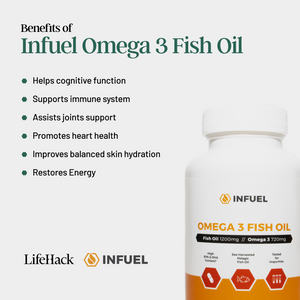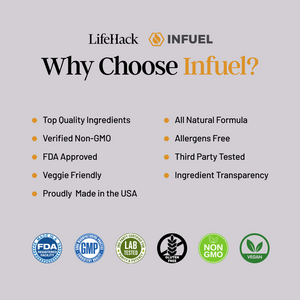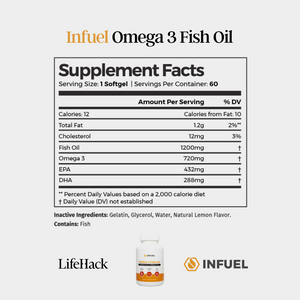 "The difference is like night and day. My mood, my skin, even my sleep has improved – all without having to eat fish – perfect!"
Help your body, mind and heart work as they should
"Best omega 3 fish oil hand down and I tried so many."
"Only fish oil that doesn't actually give you that fishy breath."
Reduce the Risk of Cardiovascular Disease
FAQs
What are the main benefits of Infuel Omega-3 Fish Oil?

Our potent blend of omega-3 fish oils is perfectly balanced with essential DHA and EPA acids – both of which you need to thrive. It's a great lemon-flavoured alternative for those of you who don't eat a lot of fish

• Helps your brain cells communicate, enhancing focus, mental health, and memory

• Keeps your heart healthy and lowers your risk of cardiovascular disease

• Nourishes your skin, helping to clear acne, uneven skin tones, fine lines, and wrinkles

• Supports your joints, helping to relieve discomfort, pain and reduce osteoporosis risk

What is DHA?

DHA, docosahexaenoic acid, is an omega-3 fatty acid essential for growing baby's brains. It's also linked to improved heart health, reduced inflammatory response and better vision.

What is EPA?

EPA, eicosapentaenoic acid, is an omega-3 fatty acid that can help fight inflammation and reduce signs of depression. 
AN EXCLUSIVE BRAND PARTNERSHIP
We only work with the best in the business, that's why we have partnered exclusively with Infuel.
Infuel is here to deliver products that help to optimize your body to become the best version of yourself all while maintaining a high energy level and fitness.
Accomplish what you want, everyday with Infuel.
Highly Recommended
I was looking for a vegan alternative to "fish oil" for my Omega 3, since I've been eating a whole-food plant based diet for several years now and don't touch fish. This Omega-3 fits the bill and the softgels are easy to take. Arrived very quickly, too.
Great Omega 3
I take this to help me focus and I read they really help with the skincare
I've only been taking it
I've only been taking it for 4 weeks and I'm feeling much better already. I take two in the mornings and two at night.
Awesome Omega3
I don't eat fish and this taste so this tablets are great for me they do not have a smelly fish taste. I feel great taking omega.
Get 15% Off